BREAKING: Trump wants to delay 2020 presidential election, but Presidents can't do that.
NATIONWIDE – Donald Trump Tweeted a call to postpone November's presidential election until the vote can be held in-person, but he has no authority to do so.
States have the power to delay their primary elections, but only Congress can change the general election date. The U.S. president cannot unilaterally change the date of the presidential election. Michael Beschloss, a presidential historian for NBC News, says there has never been a successful attempt to delay the general election, "not even during the Civil War and World War II".
Trump has long rallied against postal voting, and now he has proposed putting the U.S. presidential election on hold until citizens can "properly, securely and safely" vote. Although there is little verifiable evidence to support his fears, the former reality TV personality contends that mail-in ballots "will" be inaccurate and susceptible to fraud.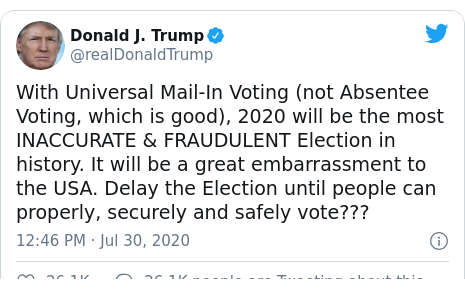 In a Tweet this morning, he said "universal mail-in voting" would make November's vote the "most inaccurate and fraudulent election in history", adding that it will be a "great embarrassment to the USA".
Trump and other critics of postal voting contend that citizens could vote more than once by using combining absentee ballots with in-person votes. The former reality TV personality has previously argued that postal voting would allow "thousands and thousands of people sitting in somebody's living room, signing ballots all over the place".
According to numerous nationwide and state-level studies over the last several generations, however, there is no evidence of widespread voter fraud associated with mail-in ballots.
Postal voting has been at the center of an ongoing national conversation since the first COVID-19 cases hit American soil. Many states want to open more pathways toward postal voting due to the public health concerns associated with gathering en masse during a global pandemic.
As of last month, the states of California, Utah, Hawaii, Colorado, Oregon and Washington have announced plans to hold "all-mail" ballot elections this November. In these states, all registered voters will automatically receive a postal ballot. Voters will then mark their ballot and send it back via mail, or drop it off at their local polling place on election day.
About half of US states allow any registered voter to request a mail-in ballot.