Increased chance for severe weather in Mississippi on Wednesday: damaging winds, hail are main threats
There is an increased chance for severe weather in Mississippi on Wednesday including the possibility of tornadoes, damaging winds and hail.
MEMA, the NWS, NOAA and other organizations have increased the likelihood of storms over the last few days.
From MEMA:
TWO rounds of severe weather are possible this afternoon through early tomorrow morning.
ROUND #1 will impact areas in green this afternoon, but the risk is very low and storms will be spotty.
However, the risk will be greater late tonight during ROUND #2 for the northern half of the state as storms move in along a cold front. All types of severe weather will be possible, including tornadoes. Please have a way to receive warnings!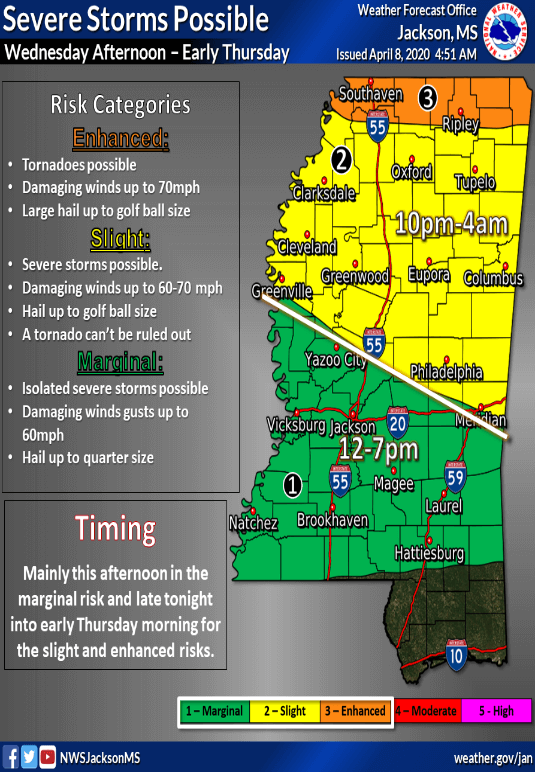 A SEVERE THUNDERSTORM WARNING has been issued for WASHINGTON and SHARKEY Counties until 01:15 PM this afternoon. Threats are severe 60 MPH wind gust and quarter size hail. #MSwx
SEVERE WEATHER UPDATE (04/08/20 / Today): The NOAA NWS Storm Prediction Center has just issued a mesoscale discussion regarding most of Central Mississippi. The wording states that the threat for severe weather is increasing as the afternoon progresses with the main threats being 60+ MPH wind gust and large hail, the tornado threat remains much lower but not ruled out completely. Based on the wording of this information it is likely a SEVERE THUNDERSTORM WATCH will be issued very shortly.