Social Security releases most popular baby name list
If you're an expectant parent and stuck on baby names for your new addition, you might want to check out the trending names list reported by the Social Security Administration (SSA).
Social Security recently reported the most popular names from parents who applied social security numbers in 2022. The most popular name for boys last year was Liam, according to SSA, and the most popular name for girls was Olivia.
Social Security releases the information as a reminder that the Social Security card is something that follows a person from birth to death.
"Just like your name, Social Security is with you from day one," said Kilolo Kijakazi, Acting Commissioner of Social Security. "One of the first things parents do for their newborn is get them a Social Security number. That makes Social Security the ultimate source for the most popular baby names each year."
Here are the top 10 baby names for 2022 as reported by Social Security: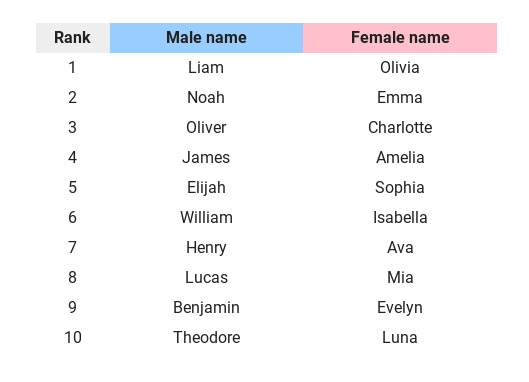 In Mississippi, James was the most popular name selected for boys last year with 175. John was second with 149 and Elijah was third with 143. Noah and William (both 142) and Liam completed the top boys' names in the state.
Among girls, Ava was the most popular with 134 and Olivia was second with 123. Amelia and Nova were next with 91 and Kinsley was fifth with 81.
The following link provides a place to select a chart with the most popular names by state and also to select a chart with the popular baby names for a certain year between 1960-2022.
Social Security Administration – Popular Baby Names