Powerball jackpot increases to an estimated $526 million
$150,000 Powerball ticket purchased in Jackson
After no one hit the Powerball® jackpot Monday night, the jackpot for Wednesday, Jan. 25, has increased to an estimated $526 million, with an estimated cash value of $284 million.
However, one Mississippi Lottery player had a good night after purchasing a Powerball ticket and adding the $1.00 Power Play option making the ticket worth $150,000.
The lucky player matched four out of five white balls and the Powerball. The winning Powerball numbers from Monday night's drawing were: 12-31-47-58-60 with a Powerball of 23 and a Power Play number of 3. By purchasing the Power Play option for an additional dollar, the prize tripled from their initial win of $50,000 to $150,000.
The winning ticket was purchased from Fuel Time 4 on North Siwell Road in Jackson.
A $500,000 winning Powerball ticket remains unclaimed. The ticket was purchased from the Broadway Mart in McComb on Aug. 13, 2022, and expires Feb. 9, 2023. This ticket would have been worth $100,000; however, the player opted to add the $1.00 Power Play feature multiplying the win by 5 times. Only 17 days remain for this player to claim their winnings.
Jackpot Update
Tuesday's Mega Millions® jackpot is up to an estimated $31 million, with an estimated cash value of $16.5 million. The jackpot for Tuesday's Mississippi Match 5 drawing is $511,000. This is the fifth-largest Mississippi Match 5 jackpot to date.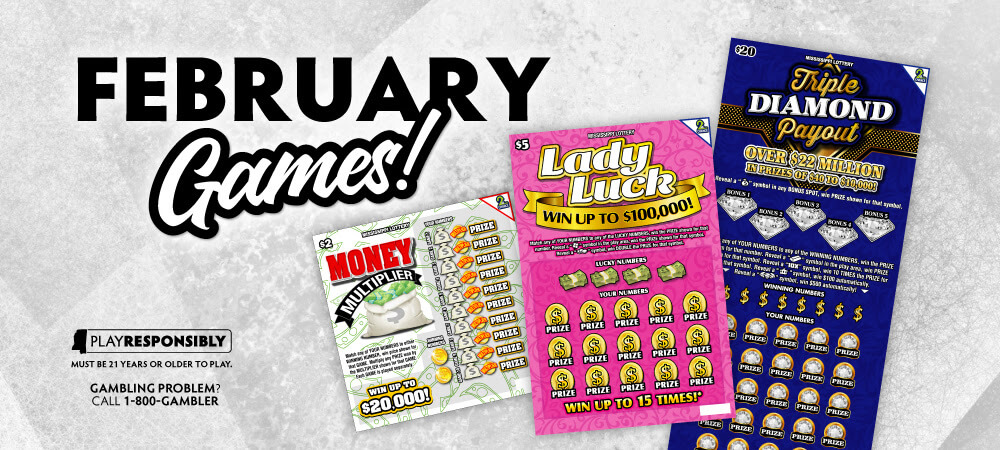 New Games
Three new scratch-off games will be available in Mississippi retailers starting Tuesday, Feb. 7, including a new $20 game featuring a top of $500,000.
$2—Money Multiplier: Approximate overall odds are 1:4.87. Win up to $20,000.
$5—Lady Luck: Approximate overall odds are 1:4.15. Win up to $100,000.
$20—Triple Diamond Payout: Approximate overall odds are 1:3.92. Win up to $500,000