Rumors Abound: Picayune Woman May (or May Not) Be Missing in TN
ROGERSVILLE, Tennessee – A Picayune woman living in Tennessee appears to have vanished over the weekend after experiencing car trouble near her home. Since the disappearance, her husband has made a series of erratic Facebook posts, including a claim that he has spoken to his wife in the intervening days, but family and friends report that they have yet to make contact with the missing woman.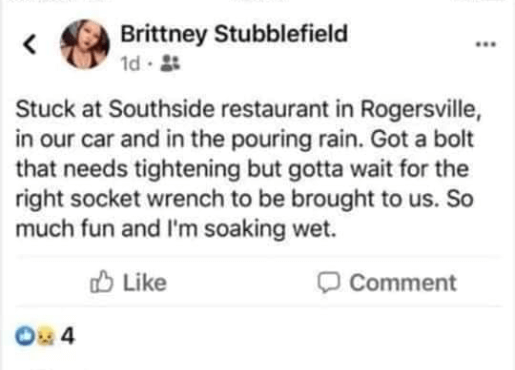 On July 31st, someone made a post on Brittany Stubblefield's Facebook complaining of car trouble. "Stuck at Southside restaurant in Rogersville, in our car and in the pouring rain", the post read. "Got a bolt that needs tightening but gotta wait for the right socket wrench to be brought to us. So much fun and I'm soaking wet".
That appears to be the last time friends and family heard from Brittney firsthand, but in a situation fraught with drama and unanswered questions, the authenticity of the post has been called into question in the droves of comments garnered by husband Brandon Stubblefield's recent activity on social media.
The first in an increasingly bizarre series of Facebook posts came the following day, on August 1st. Stubblefield initially seemed distraught, tagging his wife in a vague post that read, "Brittney Stubblefield where the crap are you wherever you are you need to get home now this crap ain't funny okay it's been long enough and I'm f****** worried so come home now". He addressed Brittney in a second post later that day, which included a street address and implored his wife to "come here now please".
In response to a slew of questions from concerned friends, family, and community members in the comments of Brandon's first post, Brittney's aunt, Cathy Petersen, clarified, "Their car broke down last night and Britney [sic] got into a car with someone she doesn't know [and] she has not been seen or heard from since".
August 2nd began with another post from Stubblefield. This time, he addressed someone in a "red Silverado" and threatened to involve authorities if the individual did not bring Brittney to the aforementioned location. Again, the comments were alight with speculation, including some from a family member who theorized that Brittney was in no danger, but had simply left Brandon for another man.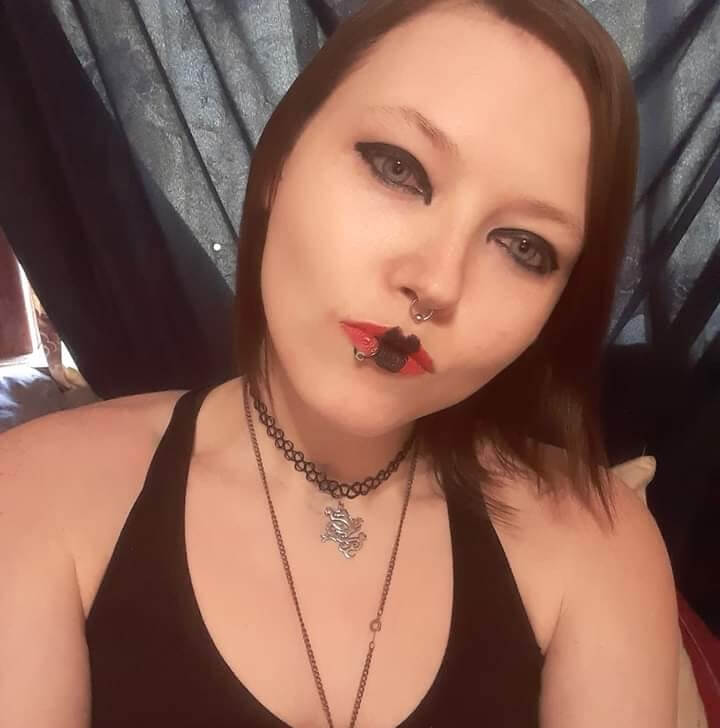 Then, Stubblefield's posts took on a darker and more self-destructive tone. He posted several music videos accompanied by comments about Brittney, their relationship, his depression, and suicide before sharing a screenshot of a conversation between himself and user Blake Patrick, believed to be the individual whose address was shared by Stubblefield as his current location in earlier posts. The screenshot shows Stubblefield tell Patrick that a person named Chris "tracked" Brittney and was reportedly picking her up. "If something happens to her", Stubblefield wrote, "I will commit suicide".
Stubblefield continued to post music videos and threats of suicide intermingled with pleas to the community, begging for information about Brittney's whereabouts for several hours. His final post of the night, however, offered up some hope. "Now everyone can be quiet I did exactly what the f*** I said I was going to do and I found Britt", the post began, "so everyone can calm down and I know it'll take a while to calm down cuz it took me a while to calm down even when I found her but we love you all talk to you later good night".
Relief quickly turned to fury, as Brittney's family took to the comments to challenge Stubblefield's claim.
"No one knows for sure if she is [safe]", commented cousin Christina Baker, explaining "he texted me saying she wasn't even with him[,] she was with someone else".
"We won't believe she's actually okay until I [sic] hear from her ourselves", said aunt, Cathy Petersen.
Brittney's mother, Lisa Petersen, also admonished her son-in-law's secrecy regarding Brittney's location in the comments, pleading with Stubblefield to "tell us the truth".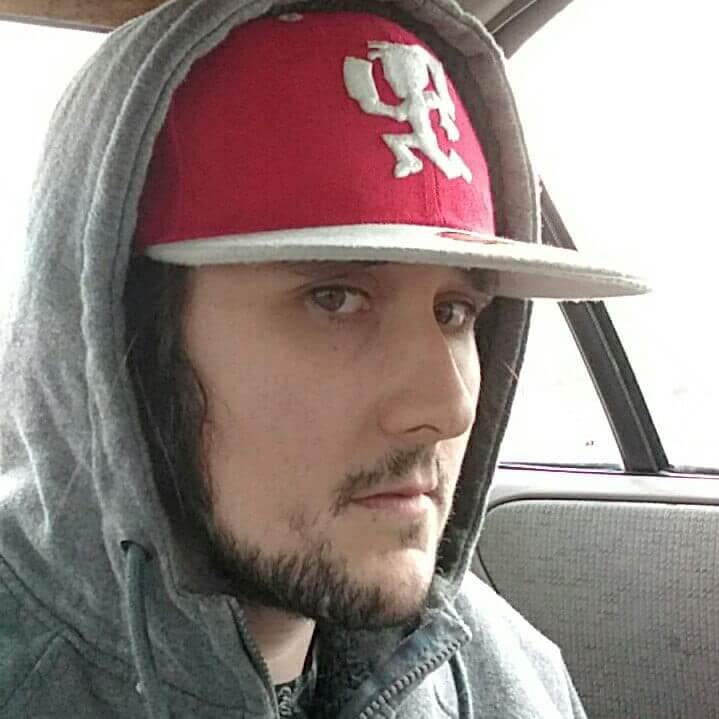 The rambling diatribe that kicked off August 3rd was Stubblefield's most erratic to date. The post addresses Brittney directly, saying "I don't know if this is your fault at all or if you had any hand in any of this" before asserting "no one makes you do anything".
In the lengthy and at times nonsensical post, which is entirely devoid of punctuation, Stubblefield laments her absence, reminisces about her presence, complains about how her disappearance has impacted his health, and wonders how certain people will react to her disappearance. He then appears to accuse Brittney of being "out somewhere[…]where they are partying drinking maybe smoking weed or something" before asking his wife "why do men tell me you're going to be home at a certain time and not even show up" [sic]
He goes on to tout his abilities as "an empath", referencing a conversation he apparently overheard between Brittney and a person he refers to as Bubba and insisting he knows when Brittney's lies, but by this point in the monologue, Stubblefield's words have devolved into bilge. Despite the disjointed nature of the post, however, a few lines toward the end stand out.
"Stop crying [sic] to suggest that I hurt you", he wrote, "everyone […] that thinks that can go to a fiery malicious hell and sit there in [sic] burn for all eternity and still nothing But pain and the horrible smell of brimstone".
The post ends with the words "I would never hurt my blueberry love muffin".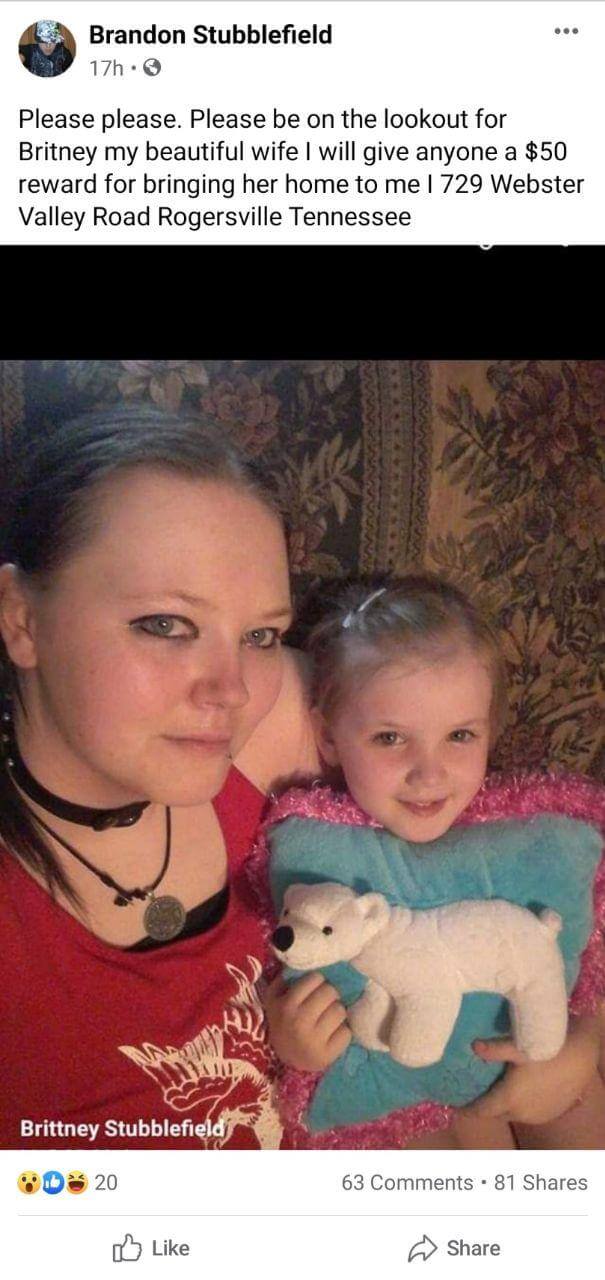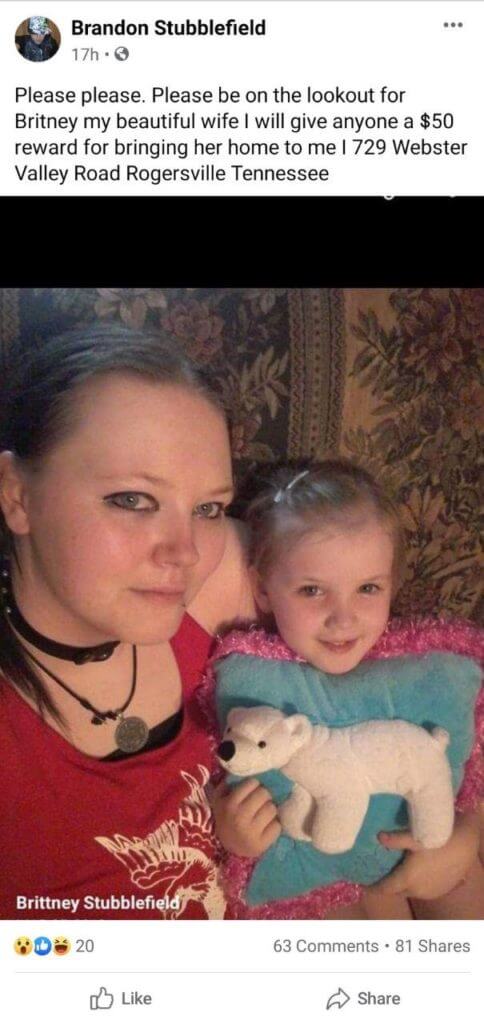 Further activity that day showed a slightly more measured Stubblefield aiming yet another post toward his missing wife, whose name he misspelled. "Just a reminder to Brittany [sic] the cops will not take off the missing persons report over there until you come to the house and they see you here", he wrote, "so whenever you can take a break from your partying how about you come home to the one who loves you more than anything but now you're s******* on him right now".
Stubblefield kicked off August 4th with another post about Brittney (and another variant spelling of her name) which read, "Please please. Please be on the lookout for Britney [sic] my beautiful wife I will give anyone a $50 reward for bringing her home to me".
Cathy Petersen again appeared in the comments, explaining as Facebook users noted the distinct lack of information on the case that "the sheriff's department is looking for her".
But, are they?
There is no reference to Brittney Stubblefield on the social media accounts of the Hawkins County Sheriff 's Office. There is no article about her disappearance in the Rogersville Review. In fact, the only mention of her name on a Google search of the area comes from a sparse article on the True Crime Society website, and a reposting of that article on the AWARE Foundation's Facebook Page. Neither resource contains a Missing Persons poster or other official release from a law enforcement agency.
Despite the plethora of rumor available online, Social News Mississippi has been unable to confirm even the most basic details about the case. It takes only a few clicks to find the names of at least three alleged suspects, various accounts of their supposed arrests, and no less than four working theories in the Facebook true crime community, including one that involves human trafficking – but at the time of publication, we cannot even confirm that Brittney Stubblefield is officially listed as a missing person.
We can only confirm that her family certainly seems to think so.
Social News Mississippi is currently awaiting comment from the Hawkins County Sheriff's Office and members of Brittney Stubblefield's family. This article will be updated as new information comes to light.