Healthcare officials reporting zero available ICU beds in Mississippi
The healthcare system in Mississippi is near it's breaking point according to multiple healthcare officials in the state as the Delta variant continues to peak again. Hospitalizations, ventilator usage and cases are on the rise.
The three day total reported on Monday was nearly 7,000 and top health officials issued dire warnings.
From LouAnn Woodward, head of COVID response at UMMC, via Twitter:
"There were ZERO available ICU beds in Mississippi as of early this morning. None. That means hospitals across the state may not be able to provide the level of care needed to you or your loved one. Not just for COVID-19 but FOR ANY EMERGENCY CARE.
ICU bed availability is an indicator of the strain COVID is placing on MS hospitals. We are caught up in a wave. Is it a rising wave, a crest? We won't know until it has receded, but right now MS is in distress. The weapons against this virus are EASY and SAFE: Masks & vaccines."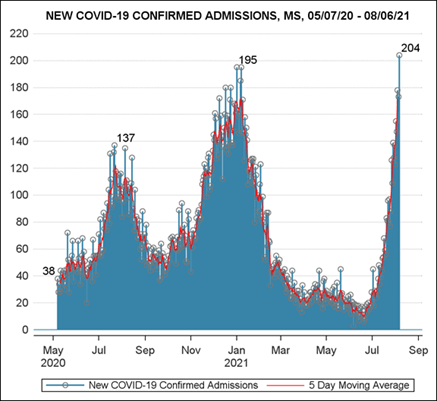 According to Woodward, citing data from MSDH, nearly 90% of hospitalizations are occuring in residents without the vaccine.
According to the top health official in the state, Dr. Thomas Dobbs, the increase in cases recently will have dire consequences.
"(These new cases) will translate into around 500 new hospitalization in coming days, and we have ZERO ICU beds at Level 1-3 hospitals, and we have > 200 patients waiting in ERs for a room."